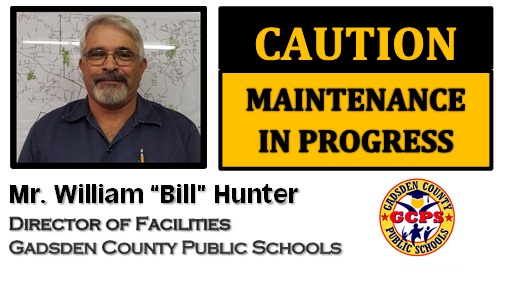 The Gadsden County Public Schools' (GCPS) Facilities Department manages District Planning, Construction and Maintenance of all Facilities operated by the Gadsden County School Board.
Welcome to the Facilities Web Page
Our goal is to provide cost-effective services at each school creating and maintaining an environment, inside and out, that is comfortable, safe and conducive to learning.
No matter what the scope of work, Facilities staff are committed to providing the best services possible, within budget and in a timely manner.
Florida's Department of Education provides administrative guidelines for the Maintenance and Operations of School Districts. Follow the link below for a better understanding of how a Facilities Department is organized and what's expected of it.
http://www.fldoe.org/finance/edual-facilities/maintenance-operations-administrative-.stml
I. Department Functions
A. Maintenance
1. Work Orders (WO) - Click here to go to School Dude Log-in
2. Emergencies:
3. Project Requests:
B. Custodial
C. Construction
D. Facilities Reporting
II. Staff
III. Energy Management Coming in the near future
VI. Links