EXCEPTIONAL STUDENT EDUCATION AND STUDENT SERVICES

The Exceptional StudentEducation and Student Services Department is committed to supporting students with diverse learning needs, their families, and schools in providing access to high quality education. The Exceptional Student Education and Student Services Department provides services, specially designed instruction, and support for students with disabilities and gifted learners.
Our goal is to provide every student with a "free appropriate public education" (FAPE); to help exceptional students progress in school, access the general curriculum, and prepare for life after school.
We have developed programs that serve our students in the most effective way possible. To ensure that our students receive appropriate services, we provide training to teachers, school staff, administrators, support staff, and others. Our trainings focus on current instructional practices and other important issues.
In addition, the Gadsden County School District provides trainings and materials to help parents understand their child's exceptionality, their child's right to a "free appropriate public education", and the processes and activities that are involved in exceptional student education. We provide activities that encourage parent involvement and collaboration between parents and professionals. Extra effort is put forth to ensure that students and families receive quality services. We are committed to making a difference in the lives of all students.
Sharon B. Thomas, Director
The Department of Exceptional Student Education and Student Services continually strives to provide services and support to students and families by working together with our teachers, therapists, support personnel, administrators, and community partners.
The Exceptional Student Education and Student Services Department provides services to all Gadsden District Schools. Services we provide include:

RTI/MTSS guidance support
Interventions
Diagnostics
Psychological Services
Counseling (including Grief Counseling)
Early Intervention

Child Find (2-5 years-old)

Screenings/Evaluations

Developmentally/age-appropriate classes

Parent Liaison
Continuum of Specialized Instruction/Services

Consultation

Support Facilitation

Resource Room

Separate Class

Separate Day School

Hospital/Homebound

Home Instruction

Specialized Instruction Teachers
Behavior Specialists
Behavior Management Consultants
Mental Health Counselors
Paraprofessionals
Speech/Language Pathologists
Vision Specialist
Occupational Therapists
Physical Therapists
Gifted Education Teacher(s)
Employment Specialist(s)
Transition Program (18-22 year-olds)
Section 504 compliance
Parent Education
Staff Professional Development
Regional LATS
Attendance Intervention and Truancy Reduction Support
Positive Behavior Intervention Plans

Gadsden County School District defines "Gifted" as it is defined in the Florida Statutes (6A-6.03019) "One who has superior intellectual development and is capable of high performance". The district proactively engages in procedures to increase the number of students referred for evaluation to determine Gifted eligibility. In fact, universal screenings are conducted annually based on district and state assessment results of students in grades one through eight. Names of students, who score above proficiency in a broad achievement area, are referred to the School Guidance Counselor and teachers of the gifted. Referrals for Gifted screening are also encouraged from teachers, parents, and/or Student Study Teams during the school year.

The evaluation procedures and measurements that are used to determine Gifted eligibility in Gadsden are in compliance and aligned with state criteria. The student must demonstrate a need for a special program, demonstrate a majority of the characteristics of gifted students, and demonstrate superior intellectual development to meet the state's criteria for gifted eligibility, known as Plan A. Gadsden also implements a District Plan B as an alternative plan to assist with increasing the participation of underrepresented groups: Limited English Proficient (LEP/ELL) and low socioeconomic status (SES), who may demonstrate a need for a special instructional program. Under Plan B, the criteria allows for academic identification with a revised intellectual score. However, students must still demonstrate gifted characteristics and a need for a special instructional program.
Efforts are made to ensure that students enrolled in grades 1-12, who are identified as Gifted, are afforded an opportunity to participate in an academically rigorous and exciting curriculum. Students receive either direct or consultation services at their enrolled school, including the district's charter school. The goal is to provide a Gifted Program so that eligible students may participate in content/grade level curriculum acceleration, and access instruction that is designed to promote critical thinking, creativity, and leadership skills.
In essence, we are having an exceptionally enjoyable time educating our exceptional population! For more information regarding Gifted Education, please visit the following websites:
The Bureau of Exceptional Education and Student Services administers programs for students with disabilities. Additionally, the bureau coordinates student services throughout the state and participates in multiple inter-agency efforts designed to strengthen the quality and variety of services available to students with special needs.
The mission of the program is to enhance the educational program for students with autism spectrum disorders. The Statewide Centers for Autism and Related Disabilities (CARD) staff join together in partnership with Florida educators to provide training and technical assistance in developing a plan for implementing innovative and effective practices in the school environment.
The Multiagency Network for Students with Emotional/Behavioral Disabilities (SEDNET) creates and facilitates a network of key stakeholders committed to assisting in the provision of a quality system of care for students with or at-risk of emotional and/or behavioral challenges.
Florida Developmental Disabilities Council contact # 850-488-4180
Florida Alliance for Assistive Services & Technology, Inc. is a nonprofit organization focused on enhancing inclusion for Floridians with disabilities of all ages through collaboration and empowerment. By creating a collaborative environment for individuals with disabilities, their families, educators, government officials, and other community stakeholders, we enhance the community for us all.
Vocational Rehabilitation telephone#850-875-2949, 850-245-3440
FDLRS Child Find, in coordination with the school districts, locates children who are potentially eligible for services under the Individuals with Disabilities Education Act (IDEA) and links them with needed services.
The Florida Department of Education is working with school districts to gather information on how well parents think their child's school is partnering with parents of students with disabilities, and would like to include your input. Your responses will help guide efforts to improve services and results for children and families.

This survey is for parents of students with individual educational plans (IEP) receiving special education services during the 2019-2020 school year. All information provided will remain confidential. You may submit one online survey for each child receiving services.
The Florida Abuse Hotline accepts reports 24 hours a day and 7 days a week of known or suspected child abuse, neglect, or abandonment and reports of known or suspected abuse, neglect, or exploitation of a vulnerable adult. Please use the links below to report a child or adult abuse.
This guide contains an overview of some of the resources available at
www.floridastandards.org
for parents of a student with a significant cognitive disability. These include the Next Generation Sunshine State Standards Access Points, available instructional resources, and access courses.
All Florida students participate in the state's assessment and accountability system. The Florida Alternate Assessment is designed for students whose participation in the general statewide assessment is not appropriate even with accommodations
The Bureau of Exceptional Education and Student Services supports school districts and others in their efforts to provide exceptional student education programs for students ages 3 - 21 who have disabilities and students who are gifted.
As a parent, you are entitled to information about your rights under the Individuals with Disabilities Education Act (IDEA). These rights, or
procedural safeguards, are intended to ensure that you have the opportunity to be a partner in the educational decisions made regarding your child.
This is one of many publications available through the Bureau of Exceptional Education and Student Services, Florida Department of Education, designed to assist school districts, state agencies which support educational programs, and parents in the provision of special programs. For additional information on this publication, or for a list of available publications, contact the Clearinghouse Information Center, Room 628 Turlington Bldg., Tallahassee, Florida 32399-0400.
Multi-Tiered System of Supports (MTSS)
The following activities are embedded in the Gadsden County School District's responsibility to implement a Multi-tiered System of Support (MTSS) that is integrated into a continuum of evidence-based academic and behavior interventions.
Parent involvement in general education intervention procedures
Parents are involved in a data-based problem-solving process to address the student's academic or behavioral areas of concern. Discussions are held with the parent regarding the data used to identify the problem, the plan for addressing the problem through interventions, the plan for monitoring student progress, the student's responses to instruction and interventions, modification of interventions when needed and anticipated future action to address the student's learning or behavioral needs. The Documentation of parental involvement and communication is maintained.
The school district reviews social, psychological, medical, and anecdotal records and achievement data in the student's cumulative folder and demonstrates through data that the student was provided appropriate instruction in the regular education settings (which was delivered by qualified personnel). Attendance records are reviewed and used as one indicator of a student's access to instruction.
Implementation of evidence-based interventions
~The school district implements evidenced-based interventions addressing the identified areas of concern in the general education environment.

~The interventions selected for implementation should be determined by a team through a data-based problem-solving process that uses student performance data to identify and analyze the area(s) of concern, select and implement interventions, monitor effectiveness of the interventions and modify intervention or intensity when needed.

~Interventions must be implemented as designed for a period of time sufficient to determine effectiveness, and with a level of intensity that matches the student's needs.

~The district must collect pre-intervention and ongoing progress-monitoring data regarding academic or behavioral areas of concern and communicate the data to the parents in an understandable format, which may include, but is not limited to, graphic representation.
Exceptions to requirement for general educaiton interventions
~Not required for children younger than kindergarten entry age
~Not required for students suspected of being gifted as described in the Rule 6A-6.03019, F.A.C.
~Not required for students who are being considered for eligibility for specially designed instruction for students who are homebound or hospitalized as described in Rule 6A-6.03020, F.A.C.
~Not required for students who are not enrolled in a public school.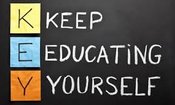 With education constantly evolving and autism on the rise (autism is said to now affect 1 in 43!), more and more teachers are welcoming into their classrooms students on the autism spectrum, according to Applied Behavior Analysis Program Guide. While teaching a child with autism may seem daunting, doing so can often prove to be one of the most rewarding parts of an educator's career. Please click the link located under Related Documents to Register.
With the unique situation this school year, CPI has been flexible with the date requirement. In order to maintain CPI certification, participants will need to complete a CPI Refresher training by the end of February 2021.
A Flyer has been attached under Related Documents for the January/February 2021 CPI Refresher training. The January 13th session is closed but they may register for any of the other dates. The flyer for this training is posted under Related Documents. You may click from on the Registration Link to register.
Independent Study Course Descriptions
Below is a list of currently available courses. Note: If you need in service credit to recertify by June 30th of the current year, please familiarize yourself with your district deadlines.